smart:EQ 3 also offers a group view with intelligent cross-channel processing that corrects cluttered and clashing frequency regions within a group of up to six channels. In this tutorial we show you how easy is to get spectral mixing done with smart:EQ 3.
Spectral mixing via drag and drop? Yes, it's that easy with smart:EQ 3. You can arrange multiple audio tracks in a sonic hierarchy of three layers. Each track is then analyzed to detect and fix masking effects.
We show you how to use the group view in the video below or in the step-by-step instructions below. For more detailed instructions please take a look at the smart:EQ 3 manual.
Hint: In case you already own smart:EQ 2 but think that smart:EQ 3 could improve your workflow even more, log into your user account and take a look at your upgrade deal.
Step-by-step
Step 1: Get to group view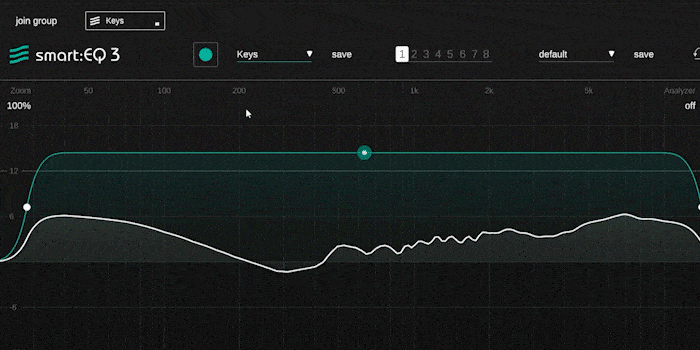 Access the group view by clicking on "join group" – add your instance to an existing group or create a new one.
Step 2: Choose your tracks

Add up to six channels equipped with smart:EQ 3 to your group.
Step 3: Let smart:EQ 3 learn
If the instance you're adding has already been learned, it will automatically be adapted to create a balanced mix. You can identify learned instances by the small smart icon next to the group name. If the instance has not been learned, the cross-channel processing will not be active for that instance.

Learn or re-learn single instances by pressing the record button inside the box, or re-learn every member of your group with the large record button.

Use the dropdown to change an instance's profile.
Step 4: Create a sonic hierarchy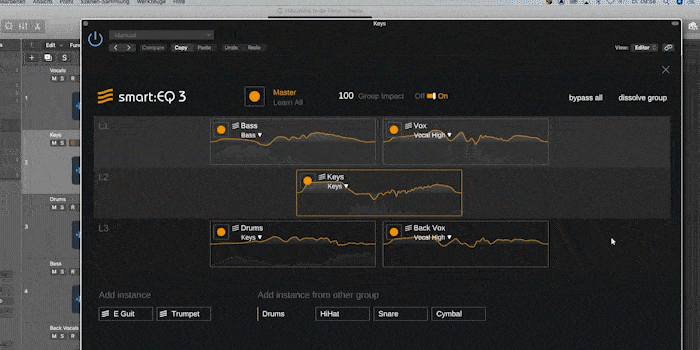 Arrange your instances in three layers to create a sonic hierarchy. An instance in layer 1 will always take the lead, while an instance in layer 3 will provide sonic support in the background.
The intelligent cross-channel processing automatically adapts all of your group members' smart:filters whenever you make a change to the hierarchy.
Step 5: Control the impact

Control the impact the cross-channel processing has – or turn it off altogether for an easy A/B comparison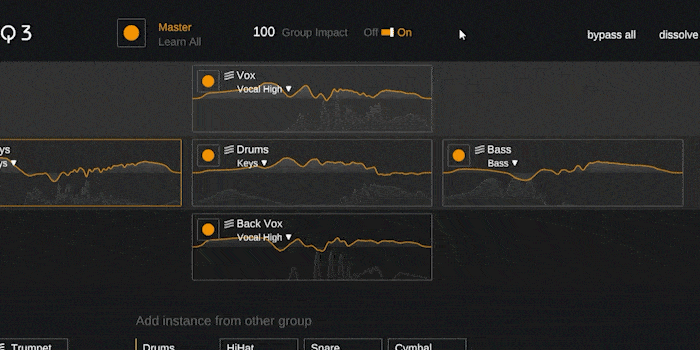 You can also bypass all instances inside your group with one click.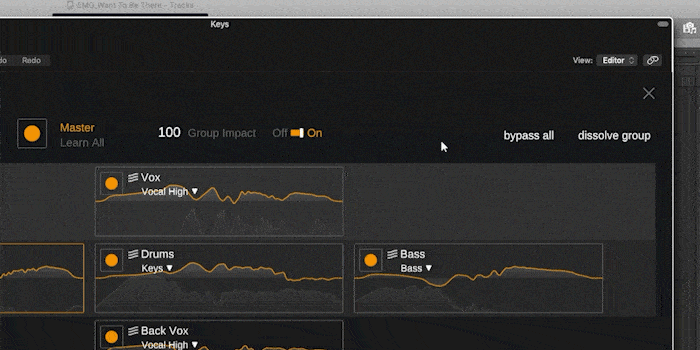 Leave group view by clicking on this button in the upper right corner.