We took our collaboration with Focusrite to the next level: The company's brand new platform "The Collective" offers a range of plug-ins that we designed and developed together to keep creators creative.
Together with Focusrite, we released the audio plug-in Balancer in 2020. Its amazing popularity showed that wrapping our smart technology in tools that focus on the wants and needs of Focusrite's community, is something we needed to pursue further. And we did.

FAST plug-ins – create without technological barriers
"The Collective" is a new online platform from Focusrite, designed to equip passionate music makers with tailored tools and fresh inspiration. With users in mind who want to stay in their creative zone without being thwarted by overly complex workflows or tools, the FAST plug-ins are designed to get good results effortlessly.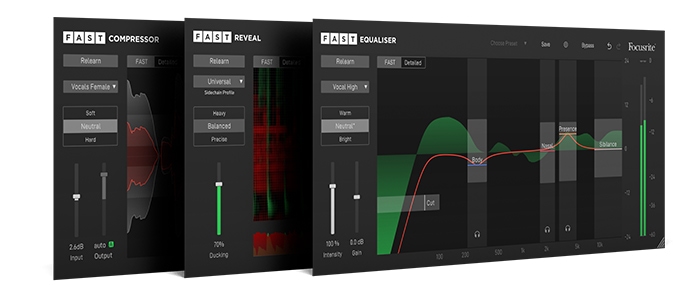 Sculpting, perfecting and ducking
For now, three FAST plug-ins are available: FAST Equaliser, FAST Compressor and FAST Reveal. All three plug-ins come with two modes – fast view and detailed view – to enable users with every level of experience to realize their creative vision. Comprehensible visualizations help users to quickly understand what needs to be done to get exactly the results they are aiming for.
Check out the whole story on The Collective website.