Sound engineer Philipp Dusse is one of the people responsible for the fact that the Funkhaus Berlin on Nalepastrasse is still used today for what it was originally built for: to produce perfect recordings. Rammstein guitarist Richard Kruspe, trance-god Paul Van Dyk and German rapper Cro have already enjoyed the advantages of its one-of-a-kind room acoustics.
Funkhaus Berlin – Centralism for flawless transmission
The unique Funkhaus Berlin project built on Nalepastrasse in 1951 brought together the country's best acousticians and architects to establish a central home for all the GDR radio programs. The result is one of the world's largest purpose-built studio complexes. From today's point of view, its enormity is almost impossible to grasp. In its heyday during the 1970s, more than 5,000 people were employed at Funkhaus Berlin.

A highlight: rotating walls for different acoustic surfaces. 
The sound quality of the recording rooms at Funkhaus Berlin remains unrivalled to this day. The main architect Franz Ehrlich applied the house-in-house principle and thereby created the concrete basis for its masterful acoustics. The trapezoidal studios of the Funkhaus each stand on unique foundations and are separated from each other by reverberation chambers and expansion joints. This eliminates any unwanted sound transmission between rooms. Of course, the wood-lined interior architecture is also designed according to acoustic criteria. One highlight is the walls consisting of rotatable triangles, each side of which is made from different materials. This awesome feature allows control over the desired quality of the audio reflections.

After the Berlin Wall came down, this jewel of acoustic architecture and design almost came to an end. But the Funkhaus has overcome these turbulences in the stream of history and serves once again as a canvas for sonic paintings of all kinds. A colorful group of musicians, bands and orchestras – from Black Eyed Peas to Daniel Barenboim – make the pilgrimage to Nalepastraße today to record in one of Funkhaus Berlin's beautiful, unique recording studios.
The whole nine yards
In the middle of this Eldorado of warm vibrations, Philipp Dusse has made himself comfortable behind his API console. Old school studio work is what it's all about for him. The sound design is done by the traditional means of miking, room selection and echo chambers. The use of artificial effects is reduced to a minimum; a unique approach in times when more and more technicians and producers are committed to mixing "in the box."
"As an FOH engineer, I would have killed for the ml:1… well, maybe not killed, but I would have stolen it!"
Good sound also needs to be well converted – especially when recording mobile. That's where the sonible USB DI-Box comes in: "The ml:1 is one of the greatest pieces of equipment I've seen in recent years." Its ruggedness and the outstanding sound quality fascinate Dusse. He uses it for on-location sessions in particular. The Funkhaus offers a lot of exciting angles from which one can tickle out the most different timbres. "It's a perfect match!"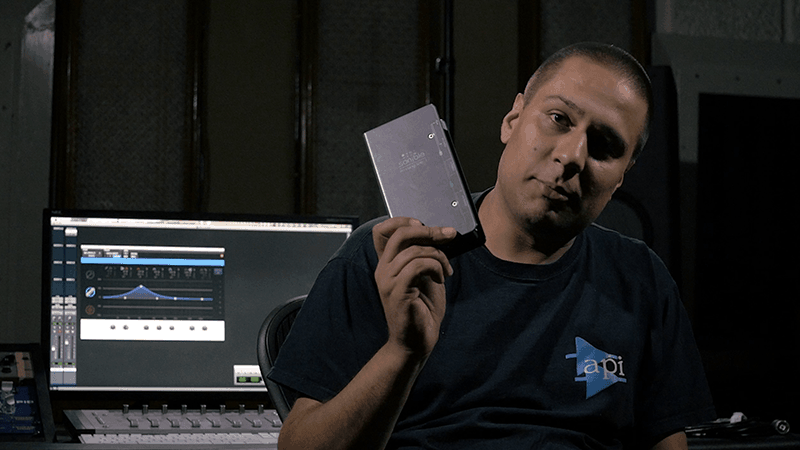 "These days we need more people who won't give up the classic acoustic recording studio."
Saal 1 in the Funkhaus is a very popular location for live concerts: hosting such greats as Bon Iver, José González, LCD Soundsystem and Depeche Mode in the 80s, to name but a few. With the ml:1 you are also perfectly equipped to handle each of these artists and more. "When I was working as an FOH engineer, I probably would have killed for this thing… well, maybe not killed, but I would have stolen it," says Philipp Dusse with a smile during our interview, which you can see and hear excerpts from here: