KLANG:fabrik is an innovative 3D audio monitoring system which can also communicate via the MADI BNC format. The "Simultaneous translator" ml:mio makes sure that no different MADI formats understand each other. 
With its 3D in-ear monitoring technology, KLANG:fabrik opens up completely new ways for live monitoring. Transparent sound, in combination with acoustic alignment, makes this one-of-a-kind sound experience possible. With the help of innovative 3D audio technology, KLANG:farbik determines the sound field according to the position and orientation of each single musician on stage. This important spatial information in turn leads to a better acoustic understanding amongst band members.
Immersive sound for up to eight people with KLANG:fabrik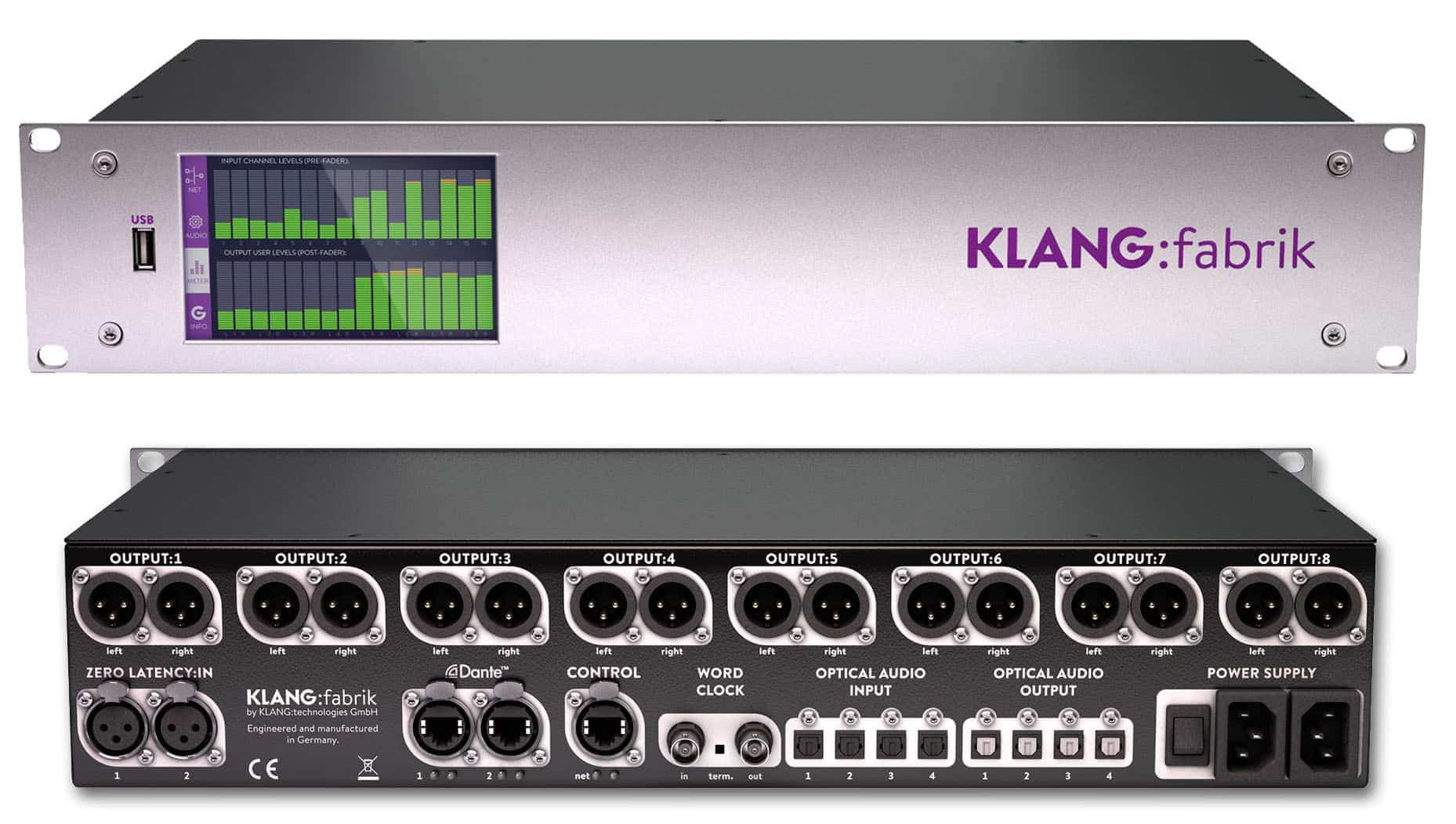 "KLANG:fabrik is the core of our monitoring solution. It combines the latest and finest HD audio algorithms with a multitude of flexible audio interfaces (i.e. MADI, Dante™, compatible to ADAT) in order to work with professional mixing desks and stage boxes of any kind. Up to 16 musicians receive their individual 3D mixes with one KLANG:fabrik. If your band needs more mixes, simply daisy-chain multiple devices." – Pascal Dietrich, founder and spokesperson of KLANG:technologies on their flagship KLANG:fabrik.
ml:mio eliminates MADI language barriers
When working with complex stage setups, MADI is essential. In order to effectively connect between KLANG:fabrik, stageboxes and mixing consoles, the ml:mio comes in very handy. The KLANG:fabrik, with its BNC inputs and outputs, can talk to a wide range of MADI devices via the ml:mio using twisted pair or optical (SC) audio connectors. With its 100% bit-transparent signal processing, this MADI converter elegantly eliminates all MADI language barriers.
MADI scenario: A connection with a lot of potential
Consider that mixing consoles often have only a TP/network connection. By using the sonible ml:mio, they can now be seamlessly connected to the BNC inputs of  KLANG:fabrik. In addition, the ml:mio can split another MADI stream that could be used to make a multitrack recording. With this simple network each musician on stage is provided with a crystal clear monitor sound and new possibilities for multitrack recording are created.