For 16 years Marian Kuch has supported bands such as The BossHoss, Blues Pills, Efterklang and Dúné as their audio and event engineer and has accompanied them on tour beyond Europe. He recently talked to sonible about the key to his profession and why it pays off to return to his hometown of Berlin every now and then.

This expert in monitoring learned the job right from the bottom up. From his start as an event engineer, many experienced colleagues have shared their knowledge with him – knowledge that Marian Kuch still benefits from today. But to stay on top of the game, one must not rest! Marian Kuch continuously furthers his education with the latest technical literature and even more importantly: with dedication!
Knowledge. Experience. Dedication.
"I would not be where I am now, if I hadn't sacrificed my weekends to accompany young and unknown bands to their shows. That is how I gained more and more practical knowledge in my field." It's this dedication that has turned Marian Kuch into a long-term and trustworthy companion of the German band, The BossHoss. Together, they have shared in the ups and downs of living on the road for 10 years now. Being usually on tour in Germany or Europe, a studio production back home in Berlin can be a welcome distraction – and sometimes even a real surprise. When Joe Perry, Johnny Depp and Alice Cooper, alias Hollywood Vampires, wanted to record David Bowie's "Heroes" in the same studio as the master himself, back in the day, recorded the song, Marian Kuch supported them during the recording.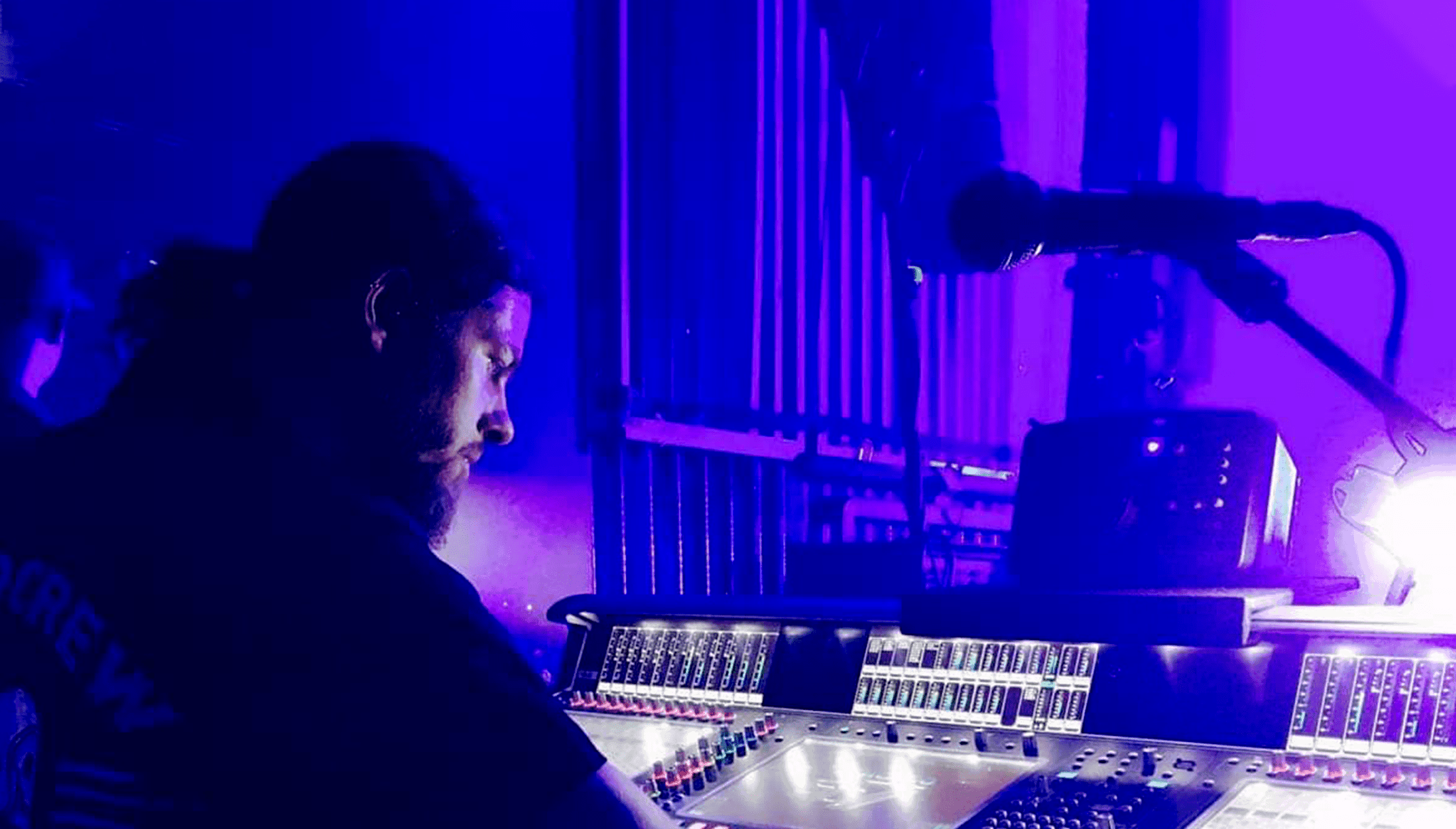 Being an audio engineer for live events doesn't just mean dealing every day with changing conditions and set ups. It also requires keeping abreast of constantly growing digital possibilities. "One of the biggest challenges is working with different infrastructures and understanding every part of them," Marian Kuch explains. "It is very important to master all the different mixing desks and to know your craft in every situation – only then will you achieve the ideal artistic result."
My philosophy: 'Knowledge. Experience. Dedication.'
Dedication is the most important as it leads to experience and knowledge.
– Marian Kuch
There is one device that eases Marian Kuch's workflow: the flexible media converter sonible ml:mio. Converting MADI-streams between optical, coaxial BNC and twisted pair used to require a lot of effort and was a time-consuming task – used to be! sonible ml:mio manages this task with ease and in a straightforward manner. Marian Kuch uses the DiGiCo mixing desk with its coaxial connector, where as, in contrast, the audio interfaces he uses – such as Madiface Pro von RME – have only optical ones. Using ml:mio, the universal connector, effortlessly converts media between these formats.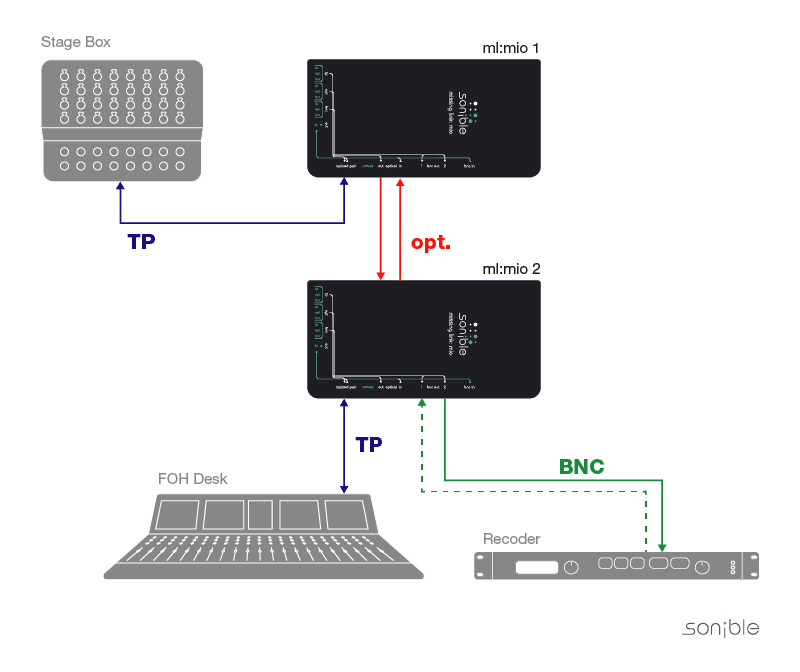 With some practical examples, Marian Kuch tells us how he integrates this handy converter into his workflow: "When I was on tour with the German newcomer-band Engst, I brought the small DiGiCo SD11 as a mixer and did the virtual soundcheck on the audio interface via sonible ml:mio. I have previously recorded the concert on multitrack – via sonible ml:mio, the stream runs from optical to coaxial and back."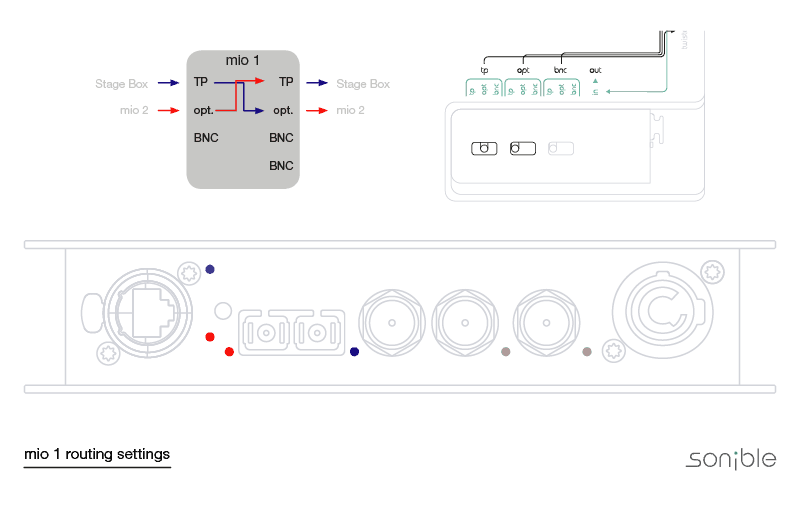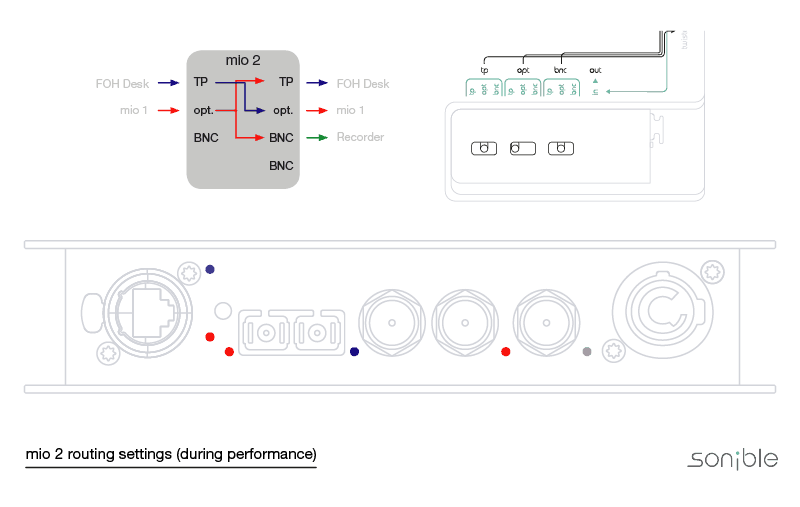 This application can be extended to two devices. As Marian Kuch explains, "I have a stage box with a twisted pair MADI connector and would like to change this signal into an optical one in order to span the longer distance between stage and FoH with a fiber optic cable. At the mixing desk, I can then convert the signal back to twisted pair. As the log data of each MADI protocol is transmitted – in my case via the control channels – it works perfectly. That's how you can, on the one hand use longer cables between stage and FoH, and on the other hand eliminate the risk of breakdown caused by splitting the signal."