We've added a fourth plug-in to our pure series: pure:EQ. Cut from the same cloth as sonible's smart:EQ 3, pure:EQ offers control over spectral distribution in a simple package.
With pure:EQ it's very easy to establish spectral balance in your tracks: Set the source type using the dropdown menu, and its AI analysis then derives an EQ curve to enhance your audio's tone and remedy any spectral deficiencies.
With the addition of pure:EQ to our pure:bundle, creators at every skill-level can benefit from a suite of essential tools that are characterized by their ease of use, high-grade signal processing and prime sound quality.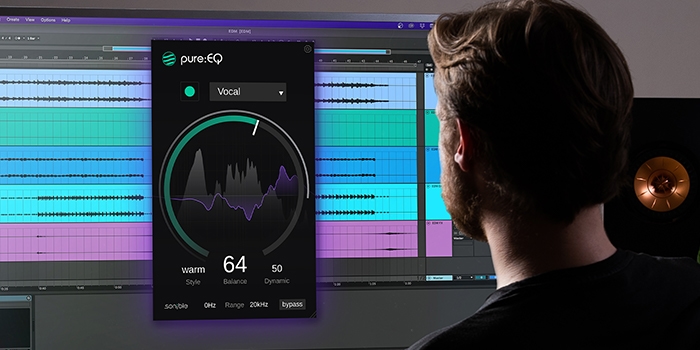 Grab the intro offers
Check out our -30% intro offer and get pure:EQ for only € 29,- and the pure:bundle for € 89,- – these intro deals end on October 2, 2023.
In case you already own sonible plug-in(s) or even the pure:bundle (and all are registered in your dashboard) make sure to check out our emails to learn more about the incredible loyalty deals.
This is what you get with pure:EQ:
AI-processing with sonible's latest neural networks
Automatic parametrization for immediate spectral balance
Balance control to set the amount of EQing
Dynamic adaption for the EQ curve to keep up with signal changes
Style Selector with three options: warm – neutral – bright
Range to determine the lowest and highest frequencies for processing