Sonova, a leading provider of innovative hearing care solutions, has started testing and developing hearing aids at the new Real Life Lab. Sonova consulted sonible regarding the audio set-up and technical implementations of the research facility. Furthermore, six sonible d:24 amplifiers are in use at the lab.
Download case study (en)
With brands such as Phonak, Unitron, Hansaton and Advanced Bionics, Sonova offers their clients a broad range of innovative solutions. In order to be able to test hearing aids and hearing aid algorithms in more realistic environments than had previously been the norm in audiological research, Sonova has built the Real Life Lab at their headquarters in Stäfa, Switzerland.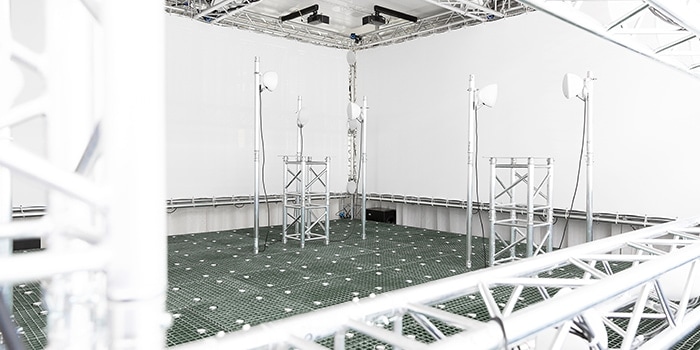 Behavioral insights
Not only are the technical aspects of hearing aids tested there, but also the behavior of people wearing hearing aids in complex and difficult acoustic environments. Test subjects can move around, turn their heads and interact naturally with acoustic objects.
Motion capturing
Such comprehensive research efforts were hardly done before because of the difficulties in controlling freely moving test subjects and gathering accurate data as to which sounds arrived at the ear respectively the hearing aid.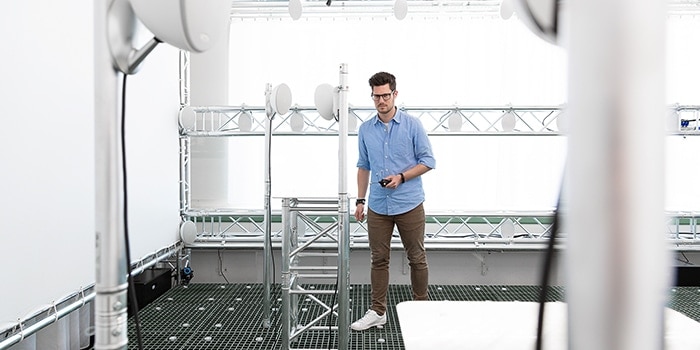 In Sonova's Real Life Lab, motion capturing is used, the position and head orientation of test subjects as well as interaction objects are monitored, and controlled sound output relating to a test person's behavior is triggered in order to solve the prior limitations in such research.
Set-up

A total of 136 speakers on 5 levels, four subwoofers and 6 sonible d:24 amplifiers are used at the Sonova Real Life Lab. To increase the credibility of the acoustic scenarios and to give visual feedback to test subjects, pictures and videos are projected onto screens placed around the lab in 360°.
The Real Life Lab is a versatile solution that enables a completely new and innovative style of audiological experiments. Its large number of channels offers maximum flexibility regarding the development and playback of acoustic scenarios.