In 2021, Swiss composer, interpreter and sound artist, Nicolas Buzzi, complimented his selection of instruments – a Buchla synthesizer and a computer system – with the 3D-speaker IKO. His requirements are understandably high. In addition to practicality and high quality standards regarding sound and workmanship, Buzzi's specific art demands a matching connectivity. IKO doesn't just meet all these requirements; so far it has exceeded expectations. Nicolas Buzzi is thrilled that both his music and listening habits have benefited immensely from working with the mobile speaker system.
Nicolas Buzzi's eclectic art spans music, installations, media and the performing arts. This versatility has already led him to the most unusual and amazing locations around the world. As a result, both space and sound are crucial and are closely connected within Buzzi's art. With IKO, which has been on his radar since it was launched, Buzzi has discovered a system that makes a deep impact on his music: "IKO enables you to literally instrumentalize any given environment. It allows you to respond to the very specific characteristics of each venue – which not only makes the music audible but defines it, " Buzzi explains.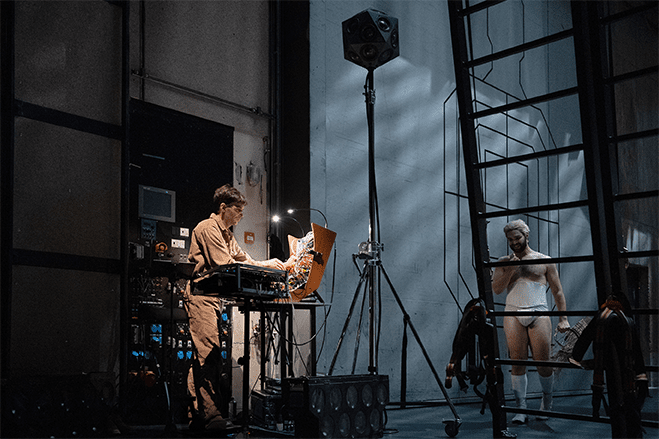 About answered hopes and exceeded expectations
Working with IKO, for Buzzi, demands a special musical handling and is tied to very unusual conditions. Before deciding to integrate IKO into his work, he had no concrete expectations – only several hopes, such as, would it have enough power to cover the venues he performs in? In practice, it's turned out that every location so far has been no problem for IKO – from an open archaeological structure and a room 20m2 in size to a factory building and a city theater. "Another hope of mine was to separate the sounds from the speaker; the results have exceeded my expectations and with the right sound material this is possible in the most incredible way. I had also hoped that this instrument would change my artistic artifacts fundamentally and not just make my music audible. To evoke a certain spatial experience, not only do the setup and spatialization parameters have to be right but also the register, spectra and textures. This instrument demands that I look deeply into rooms, spaces and their acoustic parameters," Nicolas Buzzi explains.

Processes like roller coaster rides
IKO demands from artists an open-minded approach to new possibilities and factors in order to tap all of its potential. Nicolas Buzzi is fascinated by IKO – not only by the acoustic phenomena it's based on, its high resolution and spectral and dynamics performance data but primarily by what's possible with IKO. In both the preparation for his work and its production with IKO has been highly instructive. As he explains, "Working with mirror sound sources holds quite a few of surprises. With IKO this is expanded by a multitude of possibilities – it makes things even more exciting. Now my research and composition processes are even more like roller coaster rides of illusions and disillusions as well as completely new realizations.
New artistic possibilities
The staging of a performance piece by Nicolas Buzzi and Li Tavor that took place in the context of their music installation "Talking Measures or How to lose Track" at the Istituto Svizzero in Milan, showed how IKO is shaping Buzzi's art. This performance wouldn't have been possible without the 3D-speaker system: "The performance was based on an electro-acoustic, instrumental arrangement of four players: While Li Tavor was creating acoustic textures with a Buchla synthesizer which were then projected into the venue via a delay network and IKO, the performing players, Martina Buzzi and Teresa Vittucci, created an acoustic-spatial dramaturgy by moving around a mirror sound source in the shape of a moveable wall; continually taking and then creating different listening situations in the audience area", explains Buzzi.
For the opera "Il ritorno d'Ulisse in patria" at the theatre of Basel, Buzzi composed inserts that replaced sung passages of the main character. These electro-acoustic segments represented a present-day reality, that was comparable from the producer's view to that of Odysseus, in which a lot of people were confronted with the challenge of adapting to an alien environment. The narrative was supported by a matching acoustic reality and IKO enabled a smooth connection between the electronic and original baroque ensemble. This, said Buzzi, is not a given – but that's another story altogether."
Nicolas Buzzi on his plans with IKO, "Currently I am building an infrastructure that enables me to connect site-specific conditions with content on a profound level. The first pieces with IKO and this method are premiering in September 2022 at the music festival in Bern, Switzerland: "Say what? – Just paraphrasing", a dialog with Orland die Lasso's "Prophetiae Sibyllarum", and "Kein Wunder", which will take place in connection with a scientific presentation on acoustic phenomena."